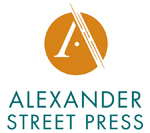 Resources
For more information contact
Alexander Street Press is a publisher of award-winning, online collections for scholarly research, teaching, and learning. Alexander Street Press pairs exclusive content with the latest technology to deliver customizable products and services to libraries and their patrons worldwide. We blend video, audio, and text with cutting-edge online tools to transform the way people research, learn, and teach in virtually every discipline.
Vendor website: www.alexanderstreet.com

Note: Alexander Street Press is now a division of ProQuest, LLC. For the Alexander Street Press product list, visit our ProQuest vendor page.