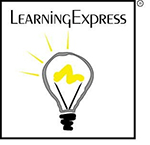 For more information contact:
LearningExpress, LLC is an educational technology company founded with the mission to help adult and student learners improve basic skills required for academic and career success. LearningExpress quickly emerged as an industry leader in both online and print resources.
Vendor website: www.learningexpressllc.com

Note: LearningExpress LLC is now a division of EBSCO. For the LearningExpress product list, please visit our EBSCO Industries vendor page.
Trial information
Free trials are available. For quotes, trials, or other assistance, contact us at services@mcls.org.
Webinars
Webinar trial presentations are available upon request by contacting MCLS.