RACO Industries carries top of the line barcode printers, barcode scanners, label applicators, label pricing guns, point-of-sale products, receipt printers, labels, tags, supplies, and accessories.

For questions or orders, contact:
Lisa Kramer
RACO Industries
5480 Creek Road
Cincinnati, OH 45242
800-446-1991 ext 2549
lkramer@racoindustries.com
Vendor website: racoindustries.com

Product list
Corded barcode scanners
Cordless barcode scanners
Receipt printers and duplicators
Hand baskets and date due guns
Return policy
Corded barcode scanners
Metrologic 9520/9540 Scanner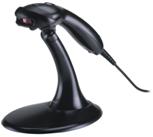 Available as a triggered or triggerless scanner
Keyboard and USB interfaces available
5–8 inch depth of field (distance between scanhead and bar code)
Available in black (shown) or dark grey
5 year warranty
Hand Held Products IT1300g Scanner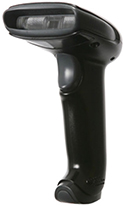 Triggered scanner. (Can be programmed for triggerless operation.)
Hand-held scanner, with hands-free stand available
USB and keyboard interfaces available
8 inch depth of field (distance between scanhead and bar code)
5 year warranty
Datalogic QuickScan QD2100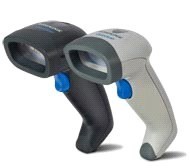 Datalogic Green Spot for good read feedback (Visual instead of audio Good-Read. Good for quiet environments.)
Easy plug-and-play connection
Drop resistance to 1.5 meters / 5.0 feet
TK-3488-V2 Scanner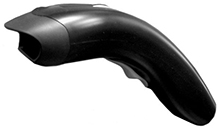 Keyboard and USB interfaces
4–6 inch depth of field (distance between scanhead and bar code)
5 year warranty
Hands-free stand available
Unitech Scanners


Wands and CCD scanners
Keyboard and USB interface available
1-5 year warranty
Metrologic 7120 Omni Directional Scanner (Orbit)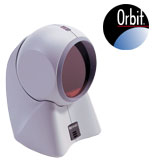 Fully-automatic scanning operation
User-replaceable cables
Easy programming
Seven beep tones
Programmable depth of field
Data editing
Available in onyx black or white smoke (shown)
2 year warranty
Metrologic MS7580 Genesis Scanner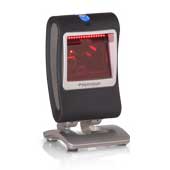 Fully automatic scanning operation
User-replaceable cables
Easy programming
World's first presentation area imager engineered to decode all standard 1D, PDF, and 2D Barcodes
Shielded LEDs provide light immunity and allow you to work in any environment from a dark warehouse to direct sunlight
Document scanning also permits the user to capture checks, coupons, signatures, and damaged packages
Metrologic 3780 Fusion Scanner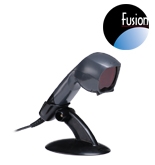 Primary omnidirectional scan pattern
Secondary single-line scan pattern
Automatic stand detection
Sleep mode with IR wake-up
Metrologic 9535BT Scanner (Voyager)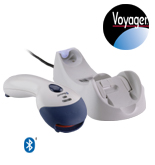 Cable-free scanning using Bluetooth technology
CodeGate data transmission technology ideal for menu scanning
Up to 14,000 scans per charge
Adjustable volume and beeper tone
Stylish recharging station for wall or countertop mounting
10 meter (33 foot) working range
Supports commonly-used interfaces including USB
Easy programming using Windows software or bar codes
Available in onyx black or white smoke (shown)
2 year warranty
Cordless barcode scanners
Datalogic GM4100 Cordless Scanner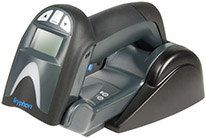 Cordless Scanner Kit includes base and base interface cable
RF Scanner sends data immediately back to your PC or Mac
Data appears wherever the cursor is on your screen
50 ft and 100 ft ranges available
AML M5900 Portable Data Collector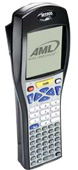 Stores scanned data until you are ready to download
No distance limitations
With integrated laser scanner
Kitted with everything you need to download collected data to ASCII file
Receipt printers and duplicators
Star TSP100 Receipt Printer

Auto-text reversal—invert receipt for wall or vertical mount application
Auto install drivers
Fully loaded: includes USB cable, power supply, wall mount kit, all drivers, and roll of receipt paper.
Tear bar and cutter models available
3 year warranty
Star TSP650 Receipt Printer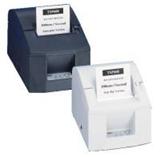 New 2 copy drivers
Standard-serial, parallel, or USB interface
"Drop-in and print" paper loading
Fits a wide variety of applications
Silent printing
Clean—no ribbon changes
Star SP512 Receipt Printer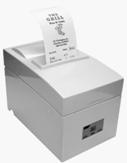 Impact receipt printer
Serial, parallel, and USB interfaces available
3 year warranty
Epson TMT88 Receipt Printer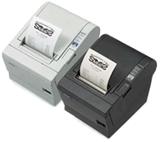 High-speed printing
Same fast print speed for both text and graphics
Ease-of-use features including drop-in paper loading, long-lasting autocutter, and auto status back messages
Improved cover design for increased spill resistance
Wide range of Connect-It interfaces
USB on board
2 year warranty
Epson TMU220 Receipt Printer

Easy to operate
Faster print speed
Drop-in paper loading
Eye-catch logo printing in black
Flexible paper widths
2 year warranty
Bar Code Duplicator

Allows you to create new labels and duplicate existing labels
Kit includes everything you need to get you started
Hand baskets and date due guns
Hand baskets

Increase circulation
Save space
Date Due Guns, Labels & Ink

Remind customers when books are due
RACO provides guns, labels, ink rollers, and repair
Return policy
RACO Industries will gladly accept your return or exchange within 30 days of the invoice date. Please test equipment within the 30-day period to be sure it is performing to your expectations. Please DO NOT label as library property until tested and found acceptable.
Specifications and prices listed subject to change without notice.