Contents:
News | Training | Special Offers | MeL
News
Indiana small library grant for strategic planning
As a result of input from libraries throughout Indiana, MCLS is developing a consulting service to work with libraries on community engagement, strategic planning, and meeting facilitation. As part of our service development, we are offering a grant opportunity to our Indiana member libraries who are Class C or D public libraries. This competitive grant will provide our consulting services free-of-charge to the selected library for the creation of their strategic plan.  These services are valued at approximately $15,000.
These funds are being made available through a grant program established by the MCLS Board of Trustees from the proceeds of the sale of the former INCOLSA building.
Register now for the Linked Data Summit
Register now for this March 16, day-long, multi-state event.  The summit will take place both in Lansing, Michigan and Indianapolis, Indiana. Speakers and participants will interact both in-person and remotely. The morning will feature an overview and update on the Library of Congress BIBFRAME pilot project from Beacher Wiggins (Director for Acquisitions and Bibliographic Access, Library of Congress) and a presentation from Jeff Penka of Linked Data industry leader Zepheira on the implications for libraries.
Meet peer libraries Hastings Public Library and Monticello-Union Township Public Library
Two more of our member public libraries have been paired up through the MCLS "Library Match" program. The Hastings Public Library in Hastings, MI and the Monticello-Union Township Public Library in Monticello, IN have been paired up to learn from one another and share ideas, solutions, and mutual inspiration. 
Read more about what makes them a match>>
If you are interested in finding a peer or learning more about "Library Match", read more>>
Community Engagement Roundtables are scheduled for March 9
We will be at the Fayette County Public Library in Connersville, IN and the Salem-South Lyon District Library in South Lyon, MI. These discussions are free and open to anyone with an interest. Join us for the opportunity to support one another in your community engagement efforts.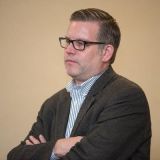 February Twitter chat to feature John Chasktra of EveryLibrary
Join us on Feb 16 at 2 pm Eastern, and chat about Political literacy for librarians with John Chrastka, Executive Director, EveryLibrary. Use the hashtag #MCLSChat.
Learn more about participating in our chats>>
Over a million digital loans in 2016
For the second year in a row, digital loans from our Overdrive group have exceeded a million. The group started in 2004. Since that time patrons with our Overdrive libraries have borrowed 5.4 million audiobooks and eBooks. Read more about it in The Digital Reader.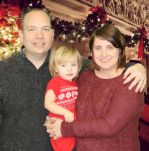 Jessica Barnes, "The Stay-at-Home Librarian," and her family
MCLS Facebook Live event to feature "The Stay-at-Home Librarian"
Join us live on the MCLS Facebook page on February 17 at 2pm Eastern (1pm Central) with Jessica Barnes, "The Stay-at-Home Librarian." Stay-at-home librarians may be raising children, taking care of family members, or looking for work. Whatever the reason, this live presentation will go over ways to stay current and learn new skills while away from libraries, and discuss strategies on how to successfully re-enter the workforce. Participants can interact using Facebook and Twitter. Join the conversation now in The Stay-at-Home Librarian Facebook Group.
---
Training
February featured workshop: Fix your stats, stat!
Is your library seeing a decline in circulation? Are your door counts down? How about some fresh ways to use your data to target and promote cards and services to your community? Join instructor Amie Thomas of the Brownsburg (IN) Public Library as she takes a DIY look at meshing your ILS system and a research database (AtoZdatabases) to develop a prescription just right for your library (database subscription not required as we'll discuss a free alternative you can use as well). In addition, we'll look at some other ways to embed in your community including involving everyone on staff in reaching out.
February workshops
MeL workshops
MeLCat workshops
MeL Databases workshops
For more information or to see our whole semester of workshops, visit our upcoming workshops and events page. If you have any questions, please contact training@mcls.org.
---
Special Offers
This month, MCLS would like to tell you about upcoming product demonstrations from Credo Reference, information about our Doody's Review Service group purchase, and Wiley's new Usage-Based Collection Management Model.
For more information or to request a quote for any products available through MCLS, please contact Chrystal Babbitt and Megan Bauerle at services@mcls.org or 800-530-9019 ext 401.

Learn more about Credo Reference's Online Reference Platform and InfoLit Modules
Join Credo for live demonstrations of the Online Reference Platform, additional content offerings ranging from subject specific collections to digestible articles on current events, and Credo's Information Literacy Modules, exclusively for MCLS members.
Credo's Online Reference Platform webinar: February 14, 2017, from 2-3pm Eastern (1-2pm Central)
Their InfoLit Modules webinar: February 16, 2017 from 2-3pm Eastern (1-2pm Central)

Doody's Review Service puts the collection in your hands
Doody's Review Service is the time-saving collection development tool that will work for you. It provides comprehensive coverage and expert reviews of health sciences publications, sent right to your email. Additionally, over 2,000 titles are reviewed and added each year, an equivalent of 200 hours of work. Our group purchase is now open to new subscribers.

Take advantage of Wiley's Usage-Based Collection Management Model offer before it expires
Don't forget to sign up now for Wiley's Usage-Based Collection Management Model (UBCM). Choose four online book subject categories and gain access for one year. A few advantages of UBCM include no automatic triggers, DRM-free chapter downloads, and unlimited concurrent user access. Wiley provides you with the data tools your library needs to identify demand trends and make data-driven decisions to grow your online books collection. This offer expires April 15, 2017, so contact us now!
---

A first for MeLCat
MeLCat set a new record during the 2016 calendar year with over one million requests filled! Michigan patrons placed 1,137,623 requests and MeLCat libraries were able to successfully fill 1,036,208 of those, for a 91.1% fill rate.
Congratulations and kudos to all MeLCat libraries for a job well done!
MeLCat Users Day
Plans are underway for MeLCat User Day meetings this coming summer. MeL staff plan to visit 6 different locations around the state to get back to the basics with libraries.  Watch for more information and registration information.
Questions?
MeLCat questions and comments should be sent to melcathelp@mcls.org.
The MeL project is funded by the Federal Library Services and Technology Act (LSTA) via the Institute of Museum and Library Services (IMLS) through the Library of Michigan, part of the Michigan Department of Education. Additional funding is provided by the State of Michigan.
---