Libraries Read: 1 Book
Libraries Read: 1 Book is an annual "library community read" project focusing on professional development. Library staff from all types of libraries are encouraged to participate by voting on which book should be selected, then participate in the discussion, whether online or in-person. For the third year in a row, MCLS will be inviting library staff in Indiana and Michigan to participate in this exciting professional development opportunity!  We will join together, across state lines and library types, to read and discuss the same book.  
The books the past two years have evoked spirited discussion and a wonderful networking opportunity. We were pleased to receive so many submissions for such a wide range of titles this year. Please vote on our Facebook poll and help us pick this year's title. With your help, we will select a book that is relevant to our profession, provides thought-provoking ideas for discussion, and has appeal across all types of libraries.
How you can participate:
June:

Vote for a title and encourage others in your organization to vote

July:

Once the title is announced at the beginning of July, read the book; Discuss the book at your own staff meetings; Participate in a live Twitter chat about the title

August:

Offer to host and lead a discussion for other librarians at your location by sending an email to Michelle Bradley at bradleym@mcls.org (discussion questions will be provided)
This year's title finalists are: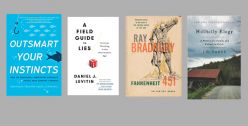 Want to vote, but not a Facebook user? Email Jan at davidsonj@mcls.org with your vote, and she'll be happy to add it to the totals!
We look forward to seeing which title is chosen!
2016 Libraries Read: 1 Book archived event>>