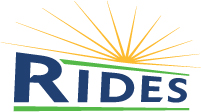 Expectations
Overall expectations for RIDES should be:
Delivery service will be provided on the scheduled day between 8am and 5pm. If a service day is missed, the courier will make every effort to deliver the following day if it is possible, provided that RIDES Assistance has been notified. 
All prepared items in a green RIDES tote will be picked up each scheduled day of service, unless the load is much larger than normal.
All items destined for the library will be delivered in a green RIDES tote each scheduled day of service. 
Service
How do we join RIDES?
For more information, see Joining RIDES.
How do we change the number of days we get delivery?
Submit your request via the Rides Assistance form.
How do you determine the number of days required?
To determine the volume of materials sent by RIDES libraries we created a matrix that uses a years' worth scanned data, MeLCat reports, local shared system reports of interlibrary loan, and library reports to the Library of Michigan about interlibrary loan. The number may not match the exact number of items you send and receive in RIDES, but it is an equalized measure that we can use for comparison of library usage.
Libraries with a volume number of 1,000 or less have the option of choosing 2 or 3 days per week of service.
Libraries with volume numbers between 1,000 and 10,000 have the option of choosing 3 or 5 days per week of service.
Libraries with a volume number of 10,000 or more are required to participate with 5 days of service per week.
Why are the Upper Peninsula options and pricing different than the Lower Peninsula?
MCLS contracts with a courier company that sub-contracts with another company for the Upper Peninsula service. There is a substantial price difference for that region, so we process them separately.
Why is there a charge for volume?
To make the pricing more equitable.
Why can't we have delivery at the same time every day so we can plan staff scheduling?
In order to offer this service to Michigan libraries at an affordable price, we have had to make some concessions. For example, our library materials are shipped with many types of items—medical, office supplies, etc.—because that lowers the cost. If we were to expect dedicated service—that is, firmly scheduled day and time of delivery—the cost would be a minimum $30–$35 per stop, as opposed to the current charge. We expect our contracted courier to deliver to libraries between 8:00 a.m. and 5:00 p.m., but we cannot ask for a specific time of delivery. The courier schedules their driver routes with the intent to deliver on prearranged days, and many times they are able to arrive at or near the same time every day, but there is no guarantee.
Shipping labels and label maker
Why are all our branches listed on the label maker if we only have delivery service at the main library?
The label maker options match the pickup locations that appear on MeLCat paging slips. If the text is short enough, it is often prefaced with "PICKUP AT." If libraries have multiple pickup location options on MeLCat, they will have multiple listings on the RIDES label maker. See 'Central Delivery' information under Participants for more information.
Sometimes when I print out shipping labels it prints the wrong address. Why is that?
Libraries that receive their delivery via a central delivery site will have the central delivery site address print on the label. The label maker is continually updated to provide the correct address so there is no need to change the printed label.
I can't find a library on the label maker.
You will have best results if you search by MeL Agency code (z code).
Some library names are abbreviated - see below under Participants for a list of shortened names.
If a library does not appear on the label maker at all either they have suspended service, or are no longer participating in RIDES. Do not make a handmade label or use an old label! Contact RIDES Assistance for help.
Miscellaneous
Where are the RIDES warehouse hubs?
100 - Grayling
101 - Upper Peninsula
200 - Grand Rapids
300 - Kalamazoo
400 - Flint
500 - Royal Oak
700 - Jackson
What do we do with mystery items that arrive at our library?
Ship them either to the owning library or to ZY001 MCLS, Attention: Sue Alt
Why are there so many labels?
All MeLCat items must have the following identification: a paging slip with the patron information and a MeLCat identifier of some sort—either a bookband or a removable sticker (some libraries attach the paging slip as a book band). Everything that is shipped via RIDES must have a current RIDES shipping label created with the RIDES label maker. The RIDES shipping label is exclusively for the use of the courier sorters and drivers, and has been designed for efficiency in sorting and delivery.
What is the RIDES electronic mailing list?
It is a generally low volume discussion group about RIDES concerns. Announcements and changes in policies or procedures are posted to this email list.
Why do I have to be subscribed to the RIDES electronic mailing list?
Per RIDES policy, every RIDES delivery site is required to have at least one staff member subscribed to the RIDES electronic mailing list

. The designated RIDES contact is subscribed but other staff may also be subscribed to the list.
How do I sign up for the RIDES electronic mailing list?
Participants
How do I find all of the RIDES Participants?
Information including contact, hub zone, and RIDES code is available on the RIDES Participating Libraries page. Click on Control -> F for a search box.
How do I know which libraries are No Pack?
No Pack is indicated on the RIDES label maker search screen, and it is printed on the shipping label.
What is Central Delivery?
Some libraries or cooperatives are the central pick/up and drop/off sites for other libraries that could be branches or stand alone libraries. Those branches or libraries then receive their delivery through a local delivery system. Sites with this service are known as 'central delivery sites' and the libraries they service are 'sub-libraries'. The delivery address on the RIDES shipping label will be the central delivery site where the courier makes a direct delivery.
I don't know which library branch to select on the label maker.
Because of space constraints, some library systems with branches have been abbreviated on the RIDES shipping label maker. When in doubt, select the following:
| | |
| --- | --- |
| Ann Arbor District Library | ZV012 AADL Downtown Main |
| Capital Area District Library | ZV194 CADL Lansing |
| Genesee District Library | ZV122 GDL Genesee Dist Lib HQ |
| Grand Rapids Public Library | ZV139 GRPL Main Br |
| Kent District Library | ZV080 KDL Headquarters |
| Monroe County LIbrary System | ZV231 Monroe CLS Daume |
| Muskegon Area District Library | ZV236 MADL HQ |
| Public Libraries of Saginaw | ZV292 PLOS Hoyt Main |
| St Clair County Library | ZV273 SCCL Port Huron Main |
| Wayne State University | ZA014 WSU Purdy/Kresge |
Why do some libraries "disappear" from the label maker?
Some libraries participate in RIDES only during the school year with a Partial Year subscription, from September through May.
Libraries that have suspended service due to closure, renovations, or some other reason, will not appear on the label maker.
If a library name does not appear on the label maker, do not create a substitute label. Send the item to ZY001 MCLS Attention: Sue Alt.
Fuel surcharge
What is a fuel surcharge?
A fuel surcharge is a transportation industry standard to cover costs when the cost of gas goes beyond a certain point. In the last few years, gas prices have gone higher than we ever thought they would. Therefore, it is a very real possibility that the fuel surcharge may become applicable.
Does RIDES have a fuel surcharge?
Yes, we do. Our courier will surcharge us if/when gas reaches $5.01 or more per gallon.
Why such a high price for a fuel surcharge?
Dealing with a surcharge is a headache for all involved. Since MCLS bills you annually for your delivery service, figuring out how to bill for such a fluctuating number is a challenge.
How will the fuel surcharge be billed?
If the fuel surcharge becomes necessary, MCLS will invoice once every 6 months. For example, if the price of gas is between $5.01 and $5.20 for six months, a library paying a yearly cost of $2187.72 would be charged $109.39 -- the yearly cost divided in half ($1093.86), then multiplied by 10%. The average gas price for the previous six months (if at $5.01 per gallon or higher) will be used to calculate the percentage surcharge.
Why bill every six months? Why not just add the fuel surcharge to next year's bill?
Several options were considered for billing the surcharge, including monthly, quarterly, semi-annually, and annually. Monthly and quarterly invoices would be very labor intensive, especially considering the small amount many libraries would see on the bill, and is not cost effective. Annual billing could prove to be quite onerous for libraries. Semi-annual billing seems to be our best alternative.
How is the fuel surcharge determined?
We will use a sliding scale. A monthly average will be calculated, based on the average weekly price of gas as reported by AAA of Michigan fuel gauge index:

| | |
| --- | --- |
| Average Price per Gallon | Surcharge % |
| $5.01–5.20 | 10.00% |
| $5.21–5.40 | 11.00% |
| $5.41–5.60 | 12.00% |
| $5.61–5.80 | 13.00% |
| $5.81–6.00 | 14.00% |
| $6.01–6.20 | 15.00% |
| $6.21–6.40 | 16.00% |
| $6.41–6.60 | 17.00% |
| $6.61–6.80 | 18.00% |
| $6.81–7.00 | 19.00% |