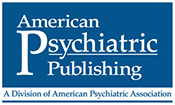 Resources
For more information contact:
The American Psychiatric Association (APA) is the medical specialty society representing 36,000 psychiatrists in the U.S. and from around the world.
American Psychiatric Publishing, a division of the APA, is the world's premier publisher of books, journals, and multimedia on psychiatry, mental health and behavioral science. APP offers authoritative, up-to-date and affordable information geared toward psychiatrists, other mental health professionals, psychiatric residents, medical students and the general public.
Vendor website: www.psychiatry.org

Product list
Product not listed? Request a quote for any product or contact Group Purchasing at services@mcls.org or 800-530-9019 ext 401.

PsychiatryOnline Premium
The PsychiatryOnline Premium subscription allows your patrons unlimited online access to a rich, well-rounded psychiatry and psychology collection. This comprehensive collection covers diagnosis and differential diagnosis, case vignettes to bring abstract concepts to life, multidisciplinary treatment guidelines, the latest research—all within a single search and navigation interface that integrates journals and books. Your users will have access to:
Book Content:
DSM-5
DSM-5 Handbook of Differential Diagnosis
DSM-5 Clinical Cases
APP Practice Guidelines Manual of Clinical Psychopharmacology, 7/e
The APP Textbook of Psychiatry, 5/e & study guide
Self-Assessment in Psychiatry
Textbook of Psychotherapeutic Treatments
The APP Textbook of Substance Abuse Treatment, 4/e, & study guide
Gabbard's Treatments of Psychiatric Disorders, 4e
Textbook of Traumatic Brain Injury, 2/e
Dulcan's Textbook of Child and Adolescent Psychiatry & study guide
The APP Textbook of Psychopharmacology, 4/e & study guide
The American Psychiatric Publishing Textbook of Geriatric Psychiatry, 4/e & study guide
Helping Parents, Youth, & Teachers Understand Medications for Behavioral & Emotional Problems
What Your Patients Need to Know About Psychiatric Medications
Book of the Month
Journal Content:
The American Journal of Psychiatry
Psychiatric Services
Academic Psychiatry
Journal of Neuropsychiatry and Clinical Neurosciences
Psychiatric News
View More
View Less